You may feel as if you have nowhere to turn if you are drowning in debt. Luckily, there are many options available to help you eliminate your debt. If you are looking to lower your monthly payments and have someone negotiate your debt payments on your behalf, Accredited Debt Relief may be a partner worth investigating. In this Accredited Debt Relief review, we will examine how they can eliminate your debt, lower your monthly payments, and negotiate with credit card companies so that you can get out of debt faster and pay $1,000s less than you usually would!

What Is it?
What Is Accredited Debt Relief?
Accredited Debt Relief is a debt management firm that provides counseling and tailored debt relief solutions. They assist consumers in getting out of debt by collaborating with some of the best debt relief firms in the country to settle thousands of accounts each year. They help consumers with debt negotiation, debt consolidation, and credit counseling.
Accredited Debt Relief has been in business since 2011, and their TrustPilot page has over 3,100 positive ratings. The American Fair Credit Council (AFCC), IAPDA, and the Better Business Bureau have all given their seal of approval (BBB). Many people often as the question "Is Accredited Debt Relief Legit?" While we do not want to make any promises , they have an A+ rating with the Better Business Bureau, and customers love their debt reduction options, customer service, and quick settlements. Take a look at their BBB page here to look at these certified debt help reviews!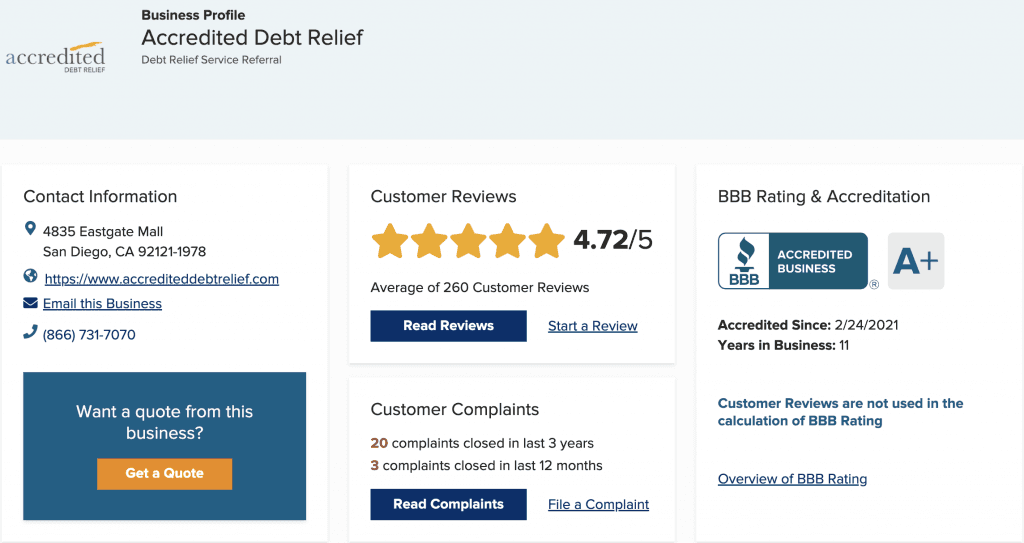 Accredited Debt Relief is rated A+ on the BBB website, and it is one of the highest ranked debt consolidation companies out there in the United States!
How Does It Work?
How Does Accredited Debt Relief Work?
Accredited Debt Relief works with debt relief firms all around the United States to assist clients who are drowning in debt. These partners negotiate and lower the amount of unsecured debt payable on your behalf with creditors. Unsecured debt might include credit card debt, medical expenses, school loans, personal loans, and other sorts of debt. Due to the company's extensive network of connections, consumers generally qualify for debt management services regardless of where they live in the nation, unlike other suppliers with restricted reach.
Here are some facts regarding Accredited Debt Relief and its clientele:
Debt owed to clients: To engage with Accredited Debt Relief, you must have a minimum debt of $15,000+.
There are no upfront charges.
Price: Fees are usually between 15% and 25% of your loan amounts when you register.
Debt relief time frame: The settlement procedure usually takes 24 to 48 months after enrollment.
Pros & Cons
Benefits & Drawbacks Of Accredited Debt Relief
Positive
No upfront fees. Pay nothing until after enrolled debt is settled
Personalized service. You will work with one debt settlement consultant who knows your situation
Accredited and rated A+ by the BBB
Reasonable fees. Fees align with other competitors
Positive reviews. Clients have left reviews wishing they had started the process sooner, along with commending the company's knowledgeable staff
100% money-back guarantee
Negatives
Not available in all states
Negative reviews. While most reviews are positive, some clients have complained about credit scores being unexpectedly affected
Has only been around for a little over 10 years, while similar competitors have been around for over 20 years
Secured debts are not currently available, but this may change soon
There is a minimum $15,000 unsecured debt requirement in order to enroll in the program
How Do I Start?
How Do I Sign Up For Accredited Debt Relief?
Visit the Accredited Debt Relief website to get started. Then, select how much unsecured debt you currently have out of the 3 options.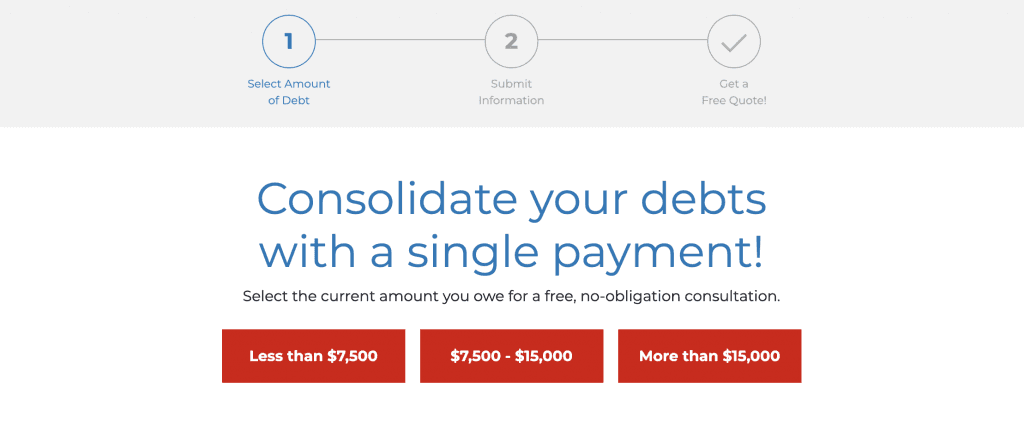 After that, you'll be asked for some basic information about yourself, such as your name, phone number, and email address.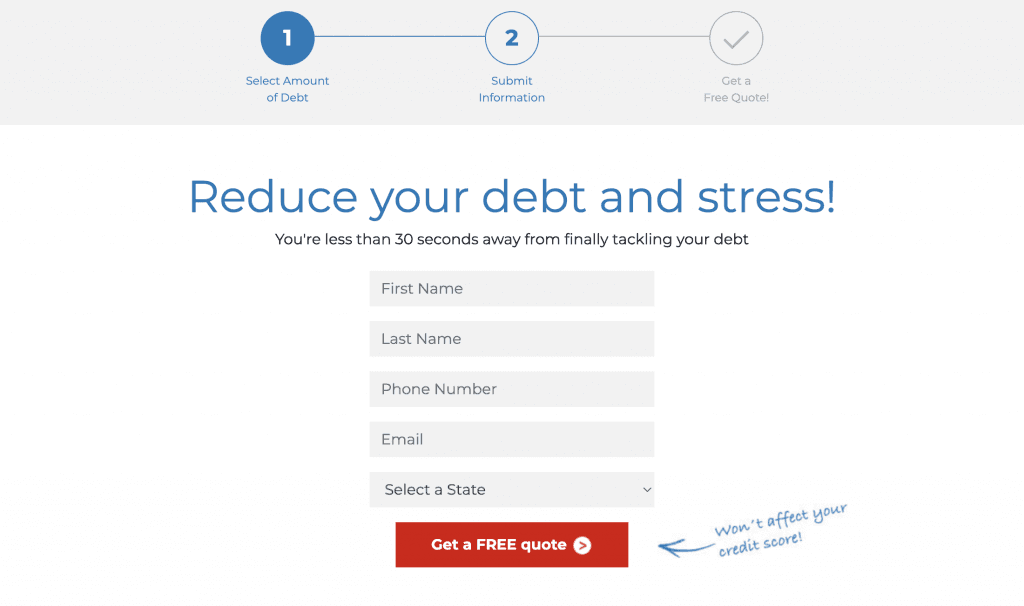 If Accredited Debt Relief is a good fit for you, you'll be encouraged to book a free consultation and work with a representative to create a debt relief plan that you'll be happy with. You will be able to pay off your debt in a shorter time as a result of this, as well as save $1,000s by consolidating your payments
Requesting a free quote from Accredited Debt Relief does NOT affect your credit score
Is It Worth It?
Is Accredited Debt Relief Worth It?
Debt settlement may be worthwhile in some instances. A corporation can negotiate a far smaller settlement, allowing you to pay a lump sum payment for a fraction of what you owe.
However, it has the potential to harm your credit report. Furthermore, debt settlement firms impose fees that can sometimes be fairly high in the short run. Still, it is important to understand your total payment will almost always be less than what you are currently paying. Nevertheless, make sure you know how much the program costs and whether or not it is still a good idea to go forward with it.
What Is The Cost?
How Much Does Accredited Debt Relief Cost?
Accredited Debt Relief does not charge any upfront costs. Instead, a fee of 15-25 percent of the entire debt enrolled is charged throughout your enrollment. While this may seem like a lot, this is far less than the typical 35-55% you would be paying if you did not use a program like Accredited Debt Relief.
For example, let's assume you put $25,000 into a debt relief program with Accredited Debt Relief. You might still owe 15-25 percent of the initial $25,000 if it manages to reduce the loan total down to $10,000. That implies you'd have to pay a fee ranging from $3,500 to $5,500 throughout the course of the settlement.
If you had a total debt of…
$25,000
| | | | |
| --- | --- | --- | --- |
| | | Consolidation Loan | Making Only Minimum Payments |
| MONTHLY PAYMENT | $408 | $676 | $729 |
| TOTAL REPAYMENT | $18,750 | $40,580 | $72,262 |
| DEBT FREE IN | 46 months | 60 months | 443 months |
| INTEREST RATE | 0% | 21% | 23% |
| 1-ON-1 EXPERT HELP | | | |
What Companies Do They Work With?
What Companies Does Accredited Debt Relief Work With?
While there is no assurance that every customer will be able to settle their credit card debt, Accredited Debt Relief has had success with the following companies:
Bank of America
Wells Fargo
Chase
Capital One
Citibank
American Express
Sears
USAA
The Home Depot
US Bank
HSBC
GE Capital
Barclays
OneMain Financial

And many more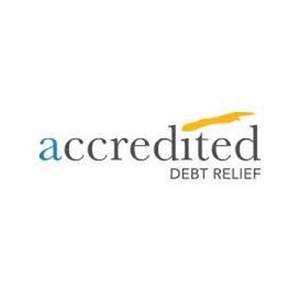 Consolidate your unsecured debt payments with Accredited Debt Relief, and save $1,000s on your total debt over time!
We may receive compensation if you sign up with this link
How Does It Compare?
How Does Does Accredited Debt Relief Compare?
Companies:
Accredited Debt Relief Vs. Freedom Debt Relief Vs. National Debt Relief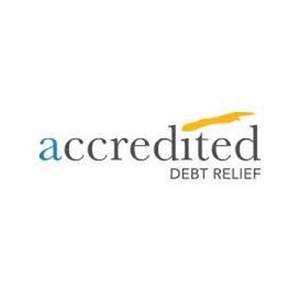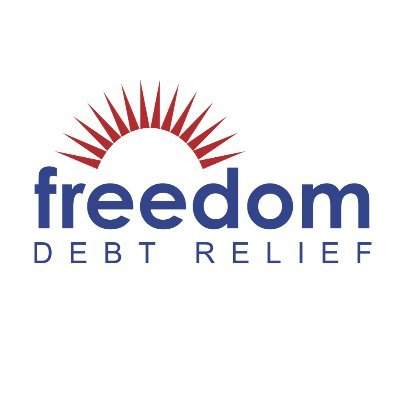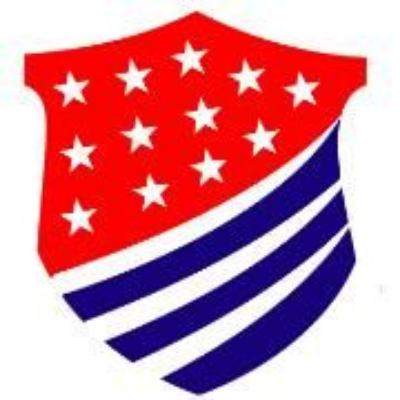 12-48 Months
24-48 months
24-48 months
33 states
38 states
42 states
Bottom Line
What Is Accredited Debt Relief Actually Like?
Our Favorite Debt Relief Program
If you're presently considering your debt-relief alternatives, you might want to contact Accredited Debt Relief to see if they can assist you since the consultation is 100% free and there are no upfront costs. Additionally, customers and consumer advocacy groups alike praise them for their dependability and efficiency. They also provide simple debt relief services that may help you get out of even the most challenging financial situations – and offer you some much-needed peace of mind once your debt is in their hands.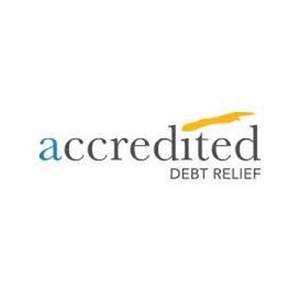 Accredited Debt Relief Review – Consolidate Your Debt & Save $1,000s