If you're looking for a checking account with a high APY and no ATM fees, check out the Aspiration, which puts a unique twist on saving while helping the environment. In this Aspiration Bank review, we'll examine all the benefits and drawbacks of this new and exciting "neobank" and see if it's the right choice for you!


Aspiration
What Is Aspiration Bank?
Aspiration is one of the many new "neobanks" that have been exploding in popularity recently; however, this one, in particular, focuses on saving the environment. With over 3 million members, Aspiration is becoming a leader in the new industry of online-only banking alternatives.
What's most astonishing, though, is the impact Aspiration has on environmental issues like helping to eliminate carbon emissions. In 2019 alone, Aspiration customers could cut their carbon emissions by the equivalent of 150 million kilometers driven by a car. The company also plants trees with every swipe of their user's recycled-plastic debit cards by rounding up the change on enabled accounts.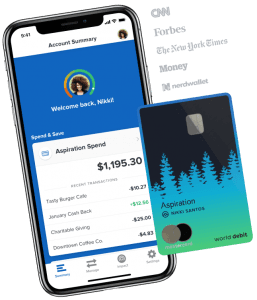 Aspiration also has a unique benefit for all its users called the Conscience Coalition, which is composed of purpose-driven merchants that support and contribute to eliminating CO2 gasses in our atmosphere. For example, companies that are 100% carbon-neutral or merchants like Toms, which donates a significant percentage of its net income to non-profits. When Aspiration account members buy with participating merchants like these, they can receive cashback ranging from up to 3% to 10%.
Plans
What Aspiration Plan Is Right For You?
Aspiration has two plans: the standard plan and Aspiration Plus. The Plus plan costs $7.99 per month (or $5.99 per month if paid annually), but the benefits you gain far outweigh the cost – especially if you take advantage of the welcome bonus in the first year and get the Aspiration 5% APY every Plus plan gets!
Pros & Cons
What Are The Pros And Cons Of Aspiration Bank?
Pros
High-interest rates: Earn up to 5.00% APY on your savings with Aspiration Plus.
No monthly fees: Aspiration gives you the option to pay no monthly fees with its base plan.
ATM reimbursement: Aspiration will reimburse 1 ATM fee every month if you opt into its Aspiration Plus plan.
High cash back rates: Earn up to 10% cash back at certain merchants when you have an Aspiration Plus plan.
Cons
No physical branches: Because Aspiration is a neo-bank, there are no physical locations you can access, which may be a problem for some people.
Minimum deposit: There is a $10 minimum deposit requirement, which, although low, could be lower compared to some competitors.
Limited cash back: Despite Aspiration offering 10% cash back at some merchants, it is not available at every location, so keep that in mind.
Fees
How Much Does Aspiration Bank Cost?
The standard account allows you to choose your monthly payment – it can be $0.00!. With this plan, you can still expect benefits like access to over 55,000 ATMs globally and the opportunity to plant a tree with every transaction.
On purchases made at merchants in the Conscience Coalition program, you can receive up to 5% cash back. Both plans also give you access to your impact score, which shows you how your purchases affect the environment.
If you don't mind paying a monthly fee, Aspiration Plus is $7.99 per month or $5.99 per month if paid annually. This plan includes all of the features of the standard plan and the chance to earn up to 10% cashback on Conscience Coalition purchases. On your savings account balance, you may earn up to 5.00% APY as well.
Debit Card
Aspiration Bank Debit Card
Aspiration partners merchants who have similar goals to their mission: to give back. When you shop from purpose-driven partners like Warby Parker, Blue Apron, Toms, and more, you may earn up to 3% to 5% with the free plan and up to 10% with the Plus plan.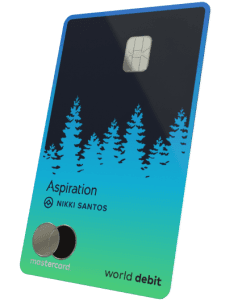 Additionally, every Aspiration member receives up to 0.5% cash back at some of the most popular brands, like Walmart, Target, and CVS.
Security
Is Aspiration Bank FDIC Insured?
With over ten partner banks, Aspiration can ensure your money is safe with FDIC insurance up to $2.5 million per depositor, with both the regular and Plus plans. For additional information, visit fdic.gov and aspiration.com/program-banks.
Aspiration can offer more than the standard $250,00 FDIC insurance because they split your money over 10 different partner banks!
Compare
How Does Aspiration Bank Compare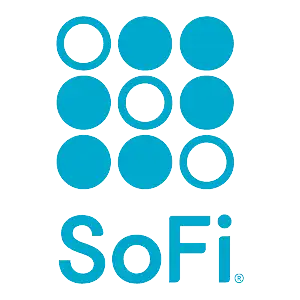 SoFi Bank
SIGN UP
Pros
Zero fees or account minimums
Banking, loans, & More All In One
Sign-up bonus (Currently at $250)
Cons
No physical locations
Need direct deposit to get 4.50% APY
Live support can be slow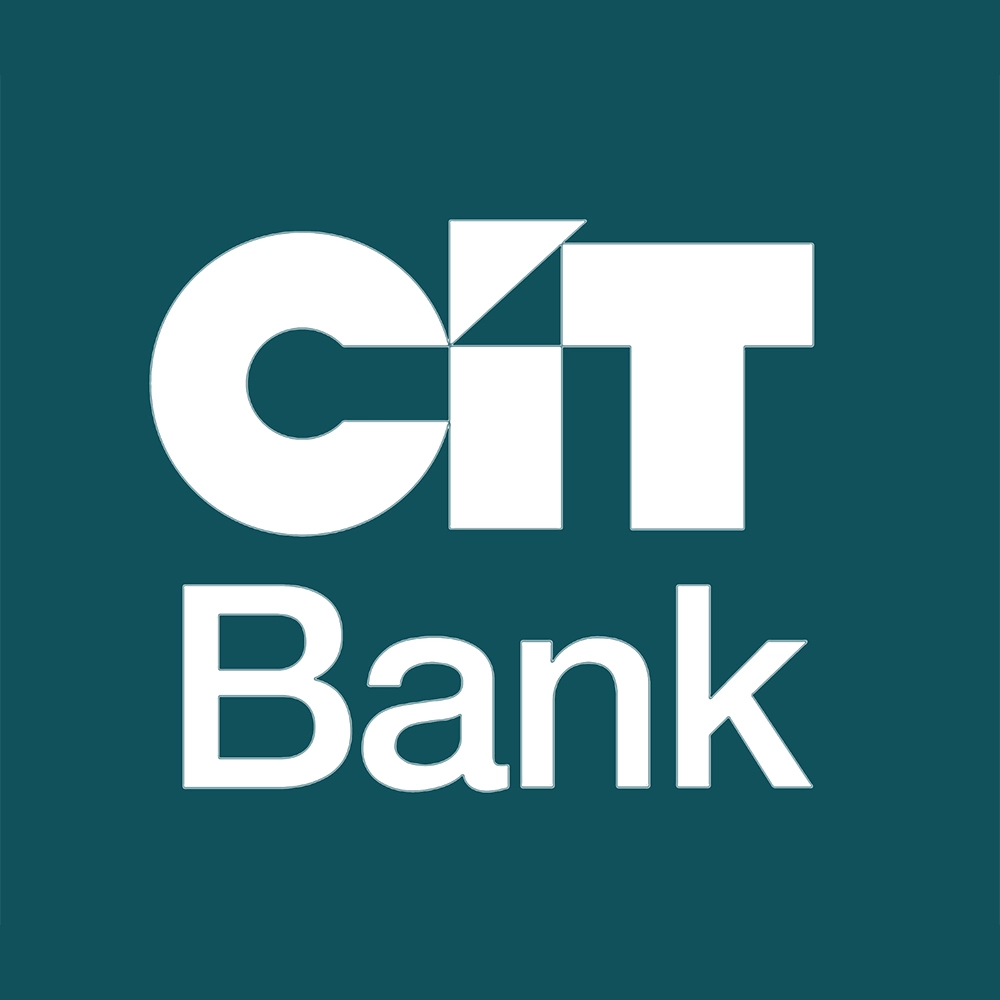 CIT Bank
SIGN UP
Pros
Zero monthly fees
High APY savings account (4.65% APY)
Free ATM reimbursements (Up to $30/mo)
Cons
No physical locations
No ATM network
Mobile check deposits sometimes take a while to clear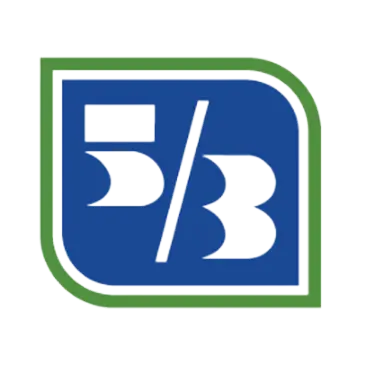 Fifth Third Bank
SIGN UP
Pros
Has physical branches
Highest sign-up bonus ($150)
24/7 live support
Cons
Only available in 11 states
Some accounts don't earn high-interest
Service fees can be high
Aspiration Bank Vs. SoFi Bank
Aspiration Bank and SoFi Bank are two online banks that offer fee-free checking and savings accounts with great interest rates. Both banks also have unique features Aspiration Bank is a great choice for people who want to be more mindful about their spending and its impact on the environment. SoFi Bank is a better choice for those who want an all-in-one platform that includes lending, credit, and banking products.
Aspiration Vs. Fifth Third Bank
Aspiration Bank and Fifth Third Bank are two online banks that offer fee-free checking and savings accounts with great interest rates. Fifth Third Bank is only offered in select states within the U.S., but it also offers physical locations. Aspiration is an online-only bank, which is the biggest difference between these two options.
Aspiration Vs. NorthOne Bank
Aspiration and NorthOne Bank are both online-only bank accounts. However, NorthOne is designed for small business owners, and Aspiration is designed for individuals and families for non-business use. Both banks offer similar banking experiences, but Aspiration focuses more on environmentally friendly business practices, while NorthOne does not.
Bottom Line
Is Aspiration Bank For You?
Great online-only bank for the environmentally conscious!
Aspiration provides you with many competitive services you will probably use while also ensuring your money makes a difference for the environment. You'll receive everything you need to pay bills, save money, and make the world a little better with cash back at purpose-driven shops, fee-free ATM withdrawals, and easy carbon offsetting. We hope our Aspiration Bank review has given you enough insight into if it's something for your to try and please post your comments regarding the bank below!
Pros
High-interest rates
Option for no monthly fees
Earn up to 10% cash back
Cons
Limited customer support options
Credit card isn't great
No physical branches
FAQ
Aspiration Bank FAQ
Is Aspiration Legit?

Yes, Aspiration Bank is legit, but it's important to know it is not a bank. Rather, it's a technology company that partners with different FDIC-insured banks to ensure your money is safe and secure.

Who Owns Aspiration Bank?

Aspiration Bank is merging with InterPrivate III Financial Partners Inc., which is a special-purpose acquisition company (SPAC) that is already listed on the New York Stock Exchange.

Is Aspiration Bank Safe

Yes, Aspiration Bank is safe and secure, and your money is protected for up to $2,500,000 since it has partnered with 10 different partner banks.

Aspiration uses a few different banks to ensure your money is FDIC insured. One of the banks used is Coastal Community Bank, which is located in Washington state.
7/25/2022 Update
The Aspiration Spend & Save Accounts are cash management accounts offered by Aspiration Financial, LLC, a registered broker-dealer, Member FINRA/SIPC, a subsidiary of Aspiration Partners, Inc. ("Aspiration"). Aspiration is under separate ownership from any other named entity. The Aspiration Save Account's up to 5.00% Annual Percentage Yield ("APY") is variable, subject to change, and is only available to customers enrolled in Aspiration Plus after conditions are met. Aspiration is not a bank.


Aspiration Bank Review 2023: Earn Up To 5.00% APY