If you're looking for a step-by-step guide on how to delete your Crypto.com account, you've come to the right place! In this blog post, we will walk you through the process of deleting your account and explain why you might want to do so.
Keep in mind that deleting your account is a permanent action – once it's gone, it's gone for good! So if you're still undecided about whether or not to delete your account, be sure to read through our reasons before making a final decision.
How To Delete Your Crypto.com Account
1. Withdraw Your Crypto & Money From Your Account
The first thing you'll need to do before deleting your account is to withdraw any crypto or fiat currency that you have stored on the platform. To do this, simply go to the "Withdraw" page on Crypto.com by tapping the home screen, then "Crypto Wallet", then "Transfer", and finally, "Withdraw". Once you have withdrawn your funds, you can move on to the next step.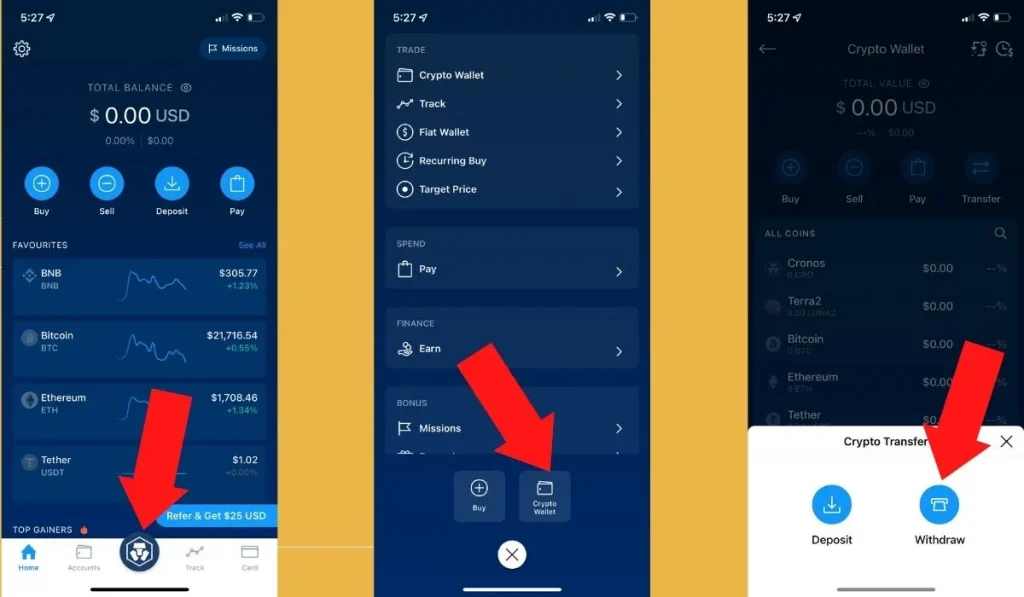 2. Contact Crypto.com's Support Team
Now that you have withdrawn your funds, you're ready to contact Crypto.com's support team and request that they delete your account. You can do this by sending an email to [email protected], or by filling out the contact form on their website.
3. Format Cancellation Email Correctly
When contacting Crypto.com's support team, it's crucial to include "Close Account" and nothing else in the subject header. This will ensure that your email is routed to the correct department and that your request is processed as quickly as possible. In the body of your email, be sure to include your full name, email address, and the reason why you're deleting your account. You can also include any other relevant information that you think might be helpful.
It's important to mention that the email that is associated with the Crypo.com account is the one you're emailing from. That way the Crypto.com team can verify your account ownership.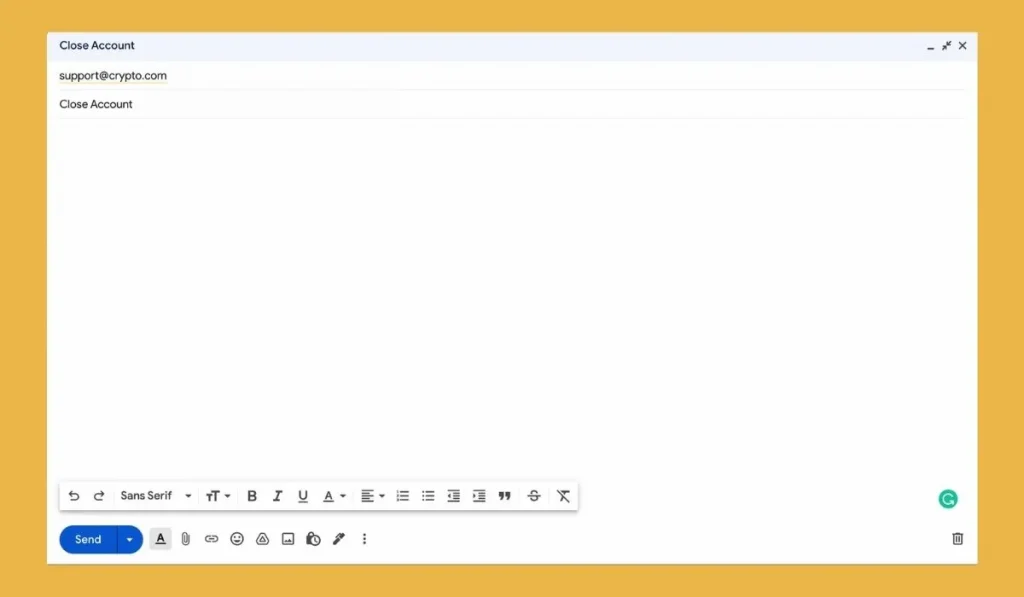 4. Confirm Cancellation Of Account
After you've sent your email, all that's left to do is wait for a response from Crypto.com. They will typically get back to you within a few days (usually 5 business days maximum), at which you'll get an email confirming that your account has been deleted. And that's it – you're now officially done!
How Do I Cancel My Crypto.com Debit Card?
1. Open Your Crypto.com Card Section On The App Or Website
Once you are on the main screen on the Crypto.com app or website, switch to the "Card" section. Then, click or tap on the card you want to cancel or freeze.
2. Freeze Your Debit Card
From the card details page, you'll see an option to "Freeze" your card. This will prevent any further transactions from being made with the card, but will not cancel your account.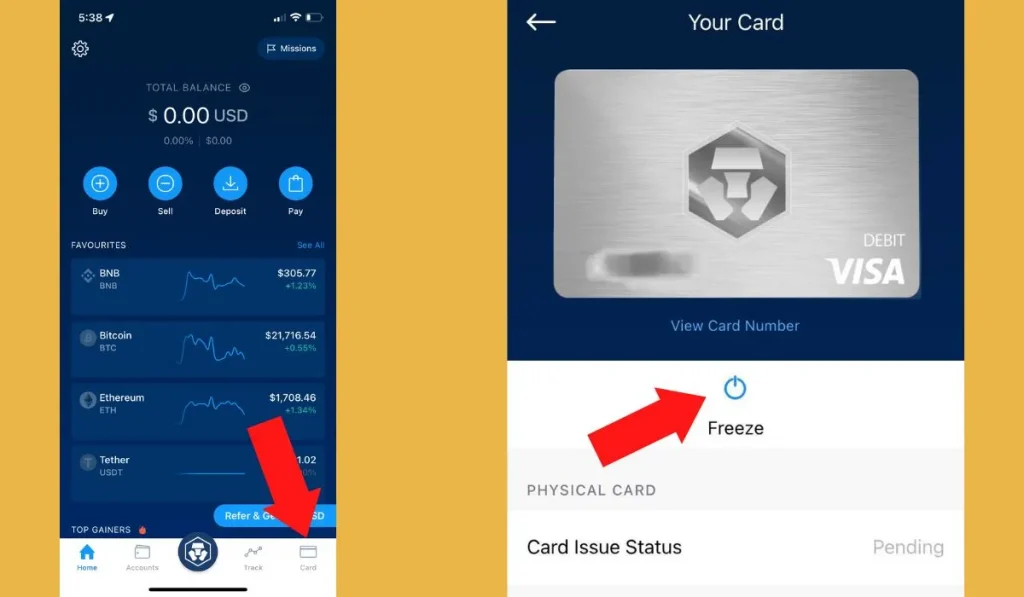 3. Confirm Debit Card Cancellation
Once your card has been frozen, you can now follow the steps above to complete the account cancellation process. Remember to include your card mention you also have frozen your debit card in your email to the support team, so they can expedite your account closure process as fast as possible.
Crypto.com Alternatives
Best Fee-Free Option
Webull is a fee-free stock trading app that also offers crypto trading. You can trade stocks, ETFs, and options with no commission fees. Plus, there is no account minimum balance required to start trading.
Features:
Fee-free crypto trading
Trade 44+ different coins
Buy with as little as $1.00
BlockFi
Best For Earning High Yields
BlockFi is a crypto lending platform that allows you to earn interest on your digital assets. You can also trade crypto and use a BlockFi-issued Visa card to spend your crypto anywhere that accepts Visa. Unlike Crypto.com's debit cards, the BlcokFi credit card has no staking requirements and offered unlimited 2% cashback in many different crypto assets of your choosing.
Features:
Earn high yields up 9% APY
No annual fee crypto credit card
U.S.-based and regulated
Phemex
Best For High-Frequency Traders
Phemex is a cryptocurrency derivatives exchange that offers spot and futures trading with up to 100x leverage. It has some of the lowest fees in the industry and does not require KYC for trading crypto futures. The platform is more complex than other platforms like Crypto.com and BlockFi, but it also offers more features for high-frequency traders.
Features:
Up to 100x leverage
KYC (Know your consumer) not required
Developer-friendly trading tools and APIs
Crypto.com Account Deletion FAQ
What Account Information Is Still Kept After Account Closure?
Crypto.com will keep some of your personal information for a minimum of five years since it is legally required for compliance obligations.
Will I Still Be Eligible For New Account Sign-Up Bonuses?
No, after you close your Crypto.com account, you will not be eligible for new sign-up bonuses even if you decide to create a new account.
Is There A Fee For Closing My Crypto.com Account?
No, there are no fees associated with deleting your Crypto.com account.
Is There A Fee For Closing My Crypto.com Debit Card?
There is no fee to close your debit card if you do not have a balance on the card. However, if there is a balance on your Crypto.com Visa card and you want your funds returned, a one-time $50 fee will be applied to cover any of the processing costs associated with this action.
How Long Does It Take For My Account To Be Deleted?
Crypto.com will typically delete your account within 1-2 business days of emailing the support team, but it can take up to 5 business days in some unique circumstances.